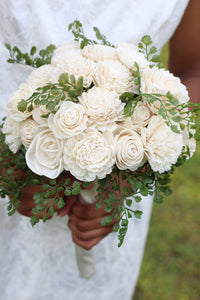 Ivory Sola Wood Bridal Bouquet
Regular price
$70.00
$0.00
Unit price
per
This ivory sola wood bridal bouquet features sola roses, zinnias,dahlias, carnations, english roses and bali flowers. There are lush sprays of artificial greenery. This bouquet has cream filler and is wrapped in ivory satin. Please note, any of these flower colors may be hand dyed in your very special wedding palette colors. The picture above shows a large size. It measures 28 inches around the whole flower ball. Size is approximate and dimensions may vary slightly since this piece is hand made to order. This bouquet is wrapped in burlap with an exposed stem, but you may also substitute twine or burlap fabric.

Our typical sizing for sola flower bouquets:

Large: Approximately 28" around
Medium: Approximately 25"around
Small: Approximately 21" around
Mini Toss: Approximately 17" around

Colors and accents can be easily changed for custom orders.
We can also make coordinating centerpieces, boutonnieres, corsages, hair flowers, and flower girl wands. Please ask.

Tip: After your wedding, find a vase you love, and place your bouquet in it as a stunning centerpiece.

Sola flowers are made from the tapioca wood peels. Pieces of wood peels may be shown on some of the flowers. This is the beauty of these flowers, showing their natural wood material. We meticulously hand dye all of my flower pieces to create your personalized colors.

Sola flowers are a great alternative to fresh flowers that may wilt easily and they are great for those with allergy issues. They are so easy to manage on your big day especially if you are having a destination wedding. These are perfect and will leave you worry free.


---